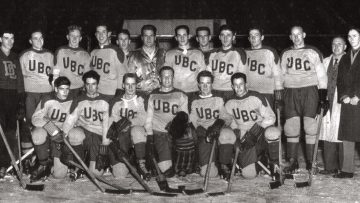 Posted: June 29, 2017
Congratulations to UBC Kinesiology alum Clare Drake, who was inducted into the Hockey Hall of Fame on Monday, June 26, 2017.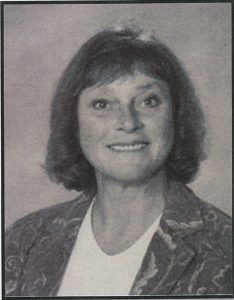 Posted: June 8, 2017
Bev Barnes' teammates and friends speak fondly of her when they refer to her as a "basketball player, coach and lunatic".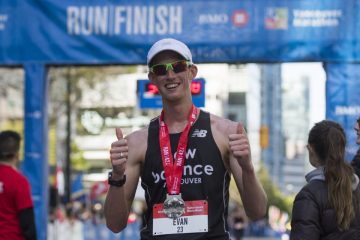 Posted: May 9, 2017
UBC School of Kinesiology Alum and Canadian Olympian, Evan Dunfee, walked the BMO Vancouver Marathon this past weekend. Evan placed 133 among 3,654 participants in the Vancouver Marathon, meaning Dunfee beat 96 per cent of the field. Congratulations Evan! Read the full story, as featured in Running Magazine, here.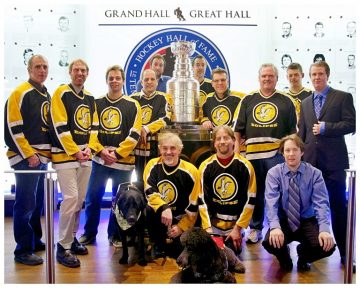 Posted: April 3, 2017
Dylan Brown, Active Kids Program Manager, volunteers as Coach with the Vancouver Eclipse Blind Hockey Club and Assistant Tournament Director for the Annual National Blind Ice Hockey Tournament.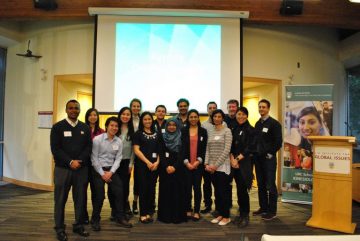 Posted: March 30, 2017
UBC Kinesiology students and alumni joined together to celebrate the completion of the 2016-17 UBC Kinesiology Mentorship Program. 
The program brings together student mentees and alumni mentors for professional development, networking…
Posted: August 15, 2016
Best wishes for all Kinesiology Alumni and current students competing at Rio 2016!!! Blair Bann Volleyball Men's Volleyball Edmonton, Alta. Alumni Luc Bruchet Athletics 5000m White Rock, B.C. Alumni Evan Dunfee Athletics Racewalk Richmond, B.C. Alumni Nikola Girke Sailing Mixed nacra 17 (multihull) Vancouver, BC Alumni Liz Gleadle Athletics Javelin Vancouver, BC Alumni Antoni Kindler Field Hockey Men's Field Hockey […]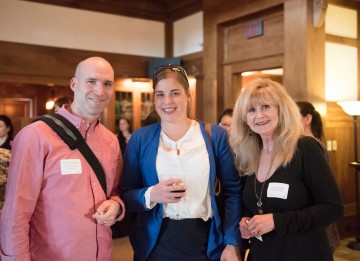 Posted: July 28, 2015
"[The Mentorship Program] is a unique opportunity to learn one on one from key people in your field. I don't know a successful person who hasn't had a mentor along the way in his or her industry."
Posted: July 31, 2014
Bachelor of Physical Education, 1980 One is immediately struck by Joanie Webster's passion, exuberance and energy. The 1980 Recreation in Education graduate was a "builder" and student leader at UBC from the mid 1970s through 1990, particularly in the areas of Intramurals and Recreation. Together with Nestor Korchinsky, both of whom are visionaries, Joanie helped […]
Posted: July 15, 2014
Bachelor of Physical Education, 1973 The petite, energetic and charismatic Thelma Wright is UBC's most prominent track and cross-country athlete. The 1973 Physical Education and 1974 Education graduate is presently the only UBC female track athlete to appear in two Olympics and has won medals at Commonwealth, Pan American and World Student Games and at […]
Posted: July 15, 2014
Bachelor of Human Kinetics, 1997 The amazing story of Varsity baseball at UBC is tied to 1997 Kinetics graduate Terry McKaig. It was the hiring of McKaig that same year as UBC's head baseball coach that proved to be the key in launching to unexpected heights this resurrected program. Terry as a player had made […]