Designed by the UBC School of Kinesiology, we offer a variety of classes suited to your individual needs. Please review the class options below and contact us if you have any questions. You can also view our online calendar and register here.
Changing Aging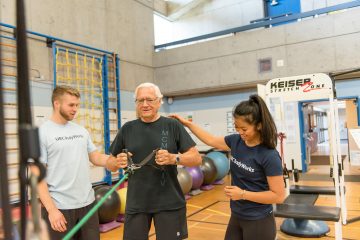 This 55+ evidence-based program is a specialty class for older adults. It focuses on strength, mobility, and cardiovascular health through muscle- and bone-strengthening exercises followed by intervals of aerobic exercise. Additional focuses include exercises to improve change of direction, reaction time and core stability. Modifications are provided to accommodate different abilities and limitations.
Some exercise will take place on the floor but transitions will be limited to 1-2 per class and standing modification will be provided if required. This class will include at least 4 multi-joint resistance exercises targeting major muscle groups and 20 minutes of moderate intensity continuous exercise or three 5 minute bouts of vigorous intensity.
Features:
Exercise in a safe space with other like-minded adults and supportive instructors
Strengthen muscles used in activities of daily living
Practice change of direction, reaction time and stability drills to improve walking confidence