The UBC Master of High Performance Coaching and Technical Leadership is a three-year, 30-credit specialized program for experienced sport coaches and technical leaders who are looking to advance their careers.
The program is composed of a one-year graduate certificate (HPCTL) followed by two years of graduate course work (MHPCTL).  The HPCTL certificate starts in June and the MHPCTL starts in August the following year.  Both programs begin with a week- long face-to-face (F2F) component held at the UBC Vancouver campus. Students who successfully completed the HPCTL program may be recommended for advancement into the MHPCTL program. All students must successfully complete the HPCTL program before being considered for the MHPCTL program.
The format of the program schedule consists of online teaching methods that are designed to facilitate the participation of candidates from across Canada and around the world.
Creating Champions: On June 13, 2019 the UBC School of Kinesiology gathered a panel of expert coaches together for an evening of discussion and insight into MHPCTL and the general state of professional coaching today. Check out the Podcast.
Course Description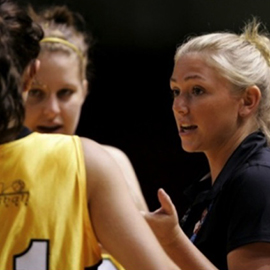 The UBC Master of High Performance Coaching and Technical Leadership is a three-year, 30-credit specialized program for experienced sport coaches and technical leaders who are looking to advance their careers. The program is composed of a one-year graduate certificate (HPCTL), followed by two years of graduate course work (MHPCTL).
Endorsed by the Coaching Association of Canada, the Canadian Sport Institute Pacific and other national sport organizations, UBC is offering an international quality program using a blended delivery model. The program will provide a strong foundation for present and future coaches and technical leaders by developing knowledge and skills in the interpretation and use of research, balanced with applied coaching practice.
The development of skills in analysis and evidence-based decision-making has been identified as a critical need by national coaches and technical leaders, and this program will help develop the next generation of coaches and technical leaders for Canada. A blended model of residential periods and on-line teaching methods will facilitate the participation of candidates from across Canada and around the world. The program will be integrated into the sport federations' national coaching qualifications, providing the National Coaching Certification Program (NCCP) together with academic credentials.
"This program is optimally positioned to produce high performance coaches
and leaders who will enhance performance of Canadian athletes toward
international podium achievement."
Lorraine Lafrenière, CEO, Coaching Association of Canada
Flexible design for practicing Coaches & Performance Directors
This is a one-year, part-time program that uses a blend of online and face-to-face (F2F) course delivery, with a scheduled designed for working professionals.
Earn credit towards NCCP Advanced Coaching Diploma and Master's Degree
Flexible Admission
Your coaching resume will be considered in the admission process to this graduate program, making this accessible to outstanding coaches in high performance sport.
The HPCTL program consists of 4 courses with a 6-day face-to-face (F2F) component held at UBC Vancouver campus in June. The MHPCTL programs consists of 5 courses with a 5-day F2F component held at UBC Vancouver campus in August. Students must successfully complete the HPCTL program before being recommended for admission into the MHPCTL program.
Course Structure
F2F (face-to-face): 10 hours of in-person instruction
Web: online synchronous webinars, at scheduled dates & times. 24 hours per course
Asynchronous: online asynchronous content, accessed at anytime. 6 hours per course
HPCTL Courses

| # | Course Title | Description |
| --- | --- | --- |
| 515 | Gap Analysis | Using analytics to: obtain and describe data to create sport and athlete profiles; determine optimal programming decisions for athletes based on progression pathway and gold medal profile; apply research methods and scientific inquiry to performance analysis. |
| 585 | Performance Planning | Using information obtained from sport profile and gap analysis, to plan and design high performance programs that enable athlete progression related to athlete pathway. The focus will be on quadrennial, annual, mesocycle and microcycle planning to integrate key factors that will impact athlete performance and progression. |
| 586 | Coaching Effectiveness | Investigate the relationship between athlete performance and coaching intervention strategies to ensure enhanced athlete development and skill acquisition. Examine structure and function of practice and feedback strategies to enable a resilient and self regulated athlete or coach capable of creating podium performance. |
| 598 | Directed Field Studies: Practicum | Application of concepts/topics; mentorship; project to reflect changes in coaching practice. Support to be provided by the candidate's National Sport Organization, and/or regional Canadian Sport Institute. Technical leader practicum is to be in the candidate's workplace or as a volunteer doing a specific project for an organization. |
Proposed HPCTL Schedule
Click image to enlarge.
MHPCTL Courses

| # | Course Title | Description |
| --- | --- | --- |
| 516 | The Psychology of Leadership and Group Processes in Sports | This course examines contemporary theory, research, and application with regard to leadership and group processes in the context of sport and exercise. The course provides a broad overview of major topics in the area. |
| 517 | Business of High Performance Sport in Canada | Examination of Canada's sport system, its governance and stakeholders; financial management for high performance sport; communications, marketing, and sponsorship of high performance sport. |
| 572 | Research Methods in Sports Coaching | This course examines current issues within coaching science research. The goal of the course is to develop coaching students' research literacy skills to assist them in establishing best coaching and leadership practices. Students should develop a comprehensive understanding of (a) the strengths and limitations of quantitative, qualitative, and mixed methods research designs; (b) interpretation of basic statistics; (c) how to critically evaluate scientific literature; and (d) how to synthesize and communicate research in written and verbal forms. |
| 596 | High Performance Sport Inquiry | This course is designed to strengthen student research knowledge and research skills. A blended learning approach is taken and applied in a problem-based setting, so that students complete tasks to support their own research interests within the high performance sport arena. Topics are selected by the student, and approval must be granted by the Program Supervisor. |
| 530A | Directed Studies | This course will require students to investigate relevant and current literature, academic research, statistical methods and expert opinion in a topic area of their choosing. The completion of this course will support the application of research methods to investigate an intervention / study in High Performance Coaching or Leadership in KIN 596: High Performance Sport Inquiry. |
Instructors
Shaunna Taylor, PhD, Adjunct Professor (KIN 586 and KIN 516)
Dr. Shaunna Taylor has been consulting with coaches and athletes from grassroots to the Olympic/Paralympic level for 15+ years, involved in athlete and integrated team support for over 6 Olympic/Paralympic cycles. Shaunna has published journal articles on coach learning in the International Sport Coaching Journal and Reflective Practice, and book chapters on coach communication and social learning for coaches. Shaunna is the Co-Chair of the Managing Council of the Canadian Sport Psychology Association, and she sits on the High Performance Committee for the Canadian Paralympic Committee (CPC) and the International Women in Sport Committee with the International Paralympic Committee (IPC). She was a Director at Triathlon Canada, and a coaching consultant at the Coaching Association of Canada. Besides her focus on mental preparation for performance and mental health support for athletes, Shaunna has an interest in nurturing a sport system that promotes excellence, equity, fair play and accessibility for all. Her current research interests are projects promoting positive body image in sport, coaching athletes with a disability, and adding to a sport landscape that empowers female athletes and leaders. She earned her Master's and Doctoral degrees in Health Sciences (spec. Sport Psychology) from the University of Ottawa, and she is a certified counsellor with the Canadian Counselling and Psychotherapy Association. Shaunna consults on specialty topics such as disordered eating prevention, athlete transition, mental training for sport, and personal support and self-care for coaches. Shaunna is a service provider to nationally carded athletes through the Canadian Sport Institutes in BC, ON and QC.
---
David Hill, MSc, Adjunct Professor (KIN 598 and KIN 530)
Dave has dedicated his career to legitimizing the role of coaches in Canada and raising awareness of the value of coach education, coaching and athlete development. He started his coaching in Alpine skiing, coaching from the introductory to the High Performance Levels. During this time he began coaching rugby and has coached at all levels of the game in Canada and on the international stage. Professionally, Dave has grown as a leader in the development of the National Coaching Certification Program, facilitating sports in the transition to a competency-based coach education model. Dave spent three years at the Coaching Association of Canada in Ottawa, before moving back to Victoria where he was engaged in regional and high performance athlete/coach programming with the Canadian Sport Institute. Currently, he is the Lead for Coaching and System development at the Institute As a graduate of the National Coaching Institute-BC, Dave's qualifications include a Master of Science (UVIC), Bachelor of Education (UCalgary), Bachelor of PE (UCalgary). As a leader in coaching education, Dave envisions a world leading coach education programs that enable coaches to further their skills and experiences and to help athletes reach their full potential.
---
Andy Van Neutegem, Adjunct Professor (KIN 515)
Andy Van Neutegem returned to Canada in 2006 after a 15 year stint in the UK working in various roles including UK anti-doping and university athletic director. Upon returning to Canada he began working for Canadian Sport Institute Pacific as a High Performance Director working with provincial and national sport organizations as well as undertaken the Lead role in the Performance Readiness. He has formally worked for a number of NSOs including Rowing Canada Aviron and is currently High Performance Director for Canadian Wheelchair Sports Association (Wheelchair Rugby) and has attended three Paralympic games (Beijing, London and Rio). He has consulted and continues to collaborate on Canadian Sport for Life (LTAD), Game Plan – Athlete transition and wellness, and National Coaching Certification Program delivery and development. Andy is current working for Own the Podium as a High Performance Advisor leading podium pathway and gold medal profiles with a number of targeted National Sport Organizations.
---

Maria Gallo, PhD (KIN 585 and KIN 596)
As a Sr. Instructor in the School of Kinesiology, Maria teaches undergraduate and graduate students in the area of exercise physiology, human health and sport performance.
As a trained coach and retired national team athlete (rugby and bobsleigh), Maria is able to supplement her teaching and can interest the students further with real-life examples and cases encountered in the world of sports science. Her current role as the Head Coach of the Women's Varsity Rugby Team compliments her duties as the primary advisor of the Master in Kinesiology (coaching stream) and the new Graduate Certificate in High Performance Coaching and Technical Leadership.
Maria is strongly committed to the highest pedagogic standards and dedicated to achieving outstanding distinction in areas of instruction and service.
Read more.
---
Carolyn McEwan, PhD (KIN 572)
Carolyn is an instructor in Research Methods and Statistics in the School of Kinesiology. Having specialized in sport and exercise psychology and receiving advanced training in research methods and statistics, she instructs undergraduate and graduate students in quantitative, qualitative, and mixed methods research design, and statistics. Carolyn employed a mixed methods approach to her own research, which examined athletes' experiences with high performance team selection processes.
Carolyn draws on her understanding of high performance sport contexts through her experiences as an international level athlete and national level official to demonstrate the necessity of research design and statistics in informing best practices in sport contexts. She emphasizes how understanding the strengths and limitations of research designs will allow coaches and technical leaders to critically evaluate the latest sport research and make informed decisions about their professional practice.
---
Wendy Pattenden, PhD (KIN 517)
CEO of Canadian Sport Institute, Wendy holds an MBA (Royal Roads University 2004) and serves as an adjunct professor at the University of British Columbia (School of Kinesiology in the Faculty of Education). Pattenden is one of the country's leading advocates for sport, athlete and coaching development.
After playing an instrumental role in forging a dynamic $3 million naming rights deal with the Canadian Olympic Committee (COC) for the Canadian Olympic and Paralympic Sports Institute Network, Pattenden is resolute in her commitment to building a sustainable funding model for Canadian Sport Institute Pacific in particular and the national network overall. In addition, Pattenden and her team have built a series of programs and athlete services that inspire $3.5 million in annual support from business leaders and the community.
Pattenden's legacy of executive leadership and community philanthropy includes her role as one of the main architects of the PacificSport regional network in 1999, serving as a guiding force behind the Canadian Sport For Life (CSFL) framework — a Federal-Provincial/Territorial framework promoting competency in fundamental motor skills. To this day, Pattenden serves as the Chair of the Board of Directors for the Canadian Sport For Life Society.
Read more.
---
Lucie Thibault, PhD (KIN 517)
Dr. Lucie Thibault teaches in the area of sport policy, governance, globalization, and organizational theory as it applies to sport and leisure organizations. She also investigates Canadian government involvement in sport excellence and sport participation, athlete funding, and athlete involvement in decision making within sport organizations. She is co-editor of the texts Contemporary Sport Management andSport Policy in Canada and she has published numerous refereed articles and book chapters. She received the Dr. Earle F. Zeigler Award in 2008 from the North American Society for Sport Management (NASSM) in 2008 and was awarded the NASSM Research Fellow in 2001. Having previously worked at the University of Ottawa and The University of British Columbia, Lucie currently teaches in the Department of Sport Management at Brock University, the largest sport management program in Canada. Lucie is focused on critically assessing the role of governance in enhancing access to sport participation and sport excellence.
---
Benoit Seguin, PhD (KIN 517)
Coming soon.
---
Mentors
Rhian Wilkinson
Rhian Wilkinson is Canada Soccer's Women's Youth National Team Coach and Women's National Team Assistant Coach. She has her UEFA Coaching Award A Diploma and was a 2018 finalist for Concacaf's Women's Football Coach award after leading Canada to a fourth-place finish at the FIFA U-17 Women's World Cup Uruguay 2018.
As a player, she was a Concacaf champion and two-time Olympic medalist (London 2012 and Rio 2016). She took part in four FIFA Women's World Cups and three Olympic Games. She retired and ranked third in Canada's international matches, starts and minutes played. She won the Norwegian league title in 2012 and was a six-time Québec Soccer Professional or Senior Player of the Year.
---
Laura Watson
High Performance Coaching Advisor – Own The Podium.eeeee
Laura is a High Performance Coaching Advisor with Own the Podium, responsible for executing the ground breaking Coaching Enhancement Program with the goal of supporting Canada's coaches in the pursuit of world class coaching excellence in Olympic and Paralympic sport. Along her education journey, Laura attended the Sauder School of Business and the University of British Columbia, where she earned her Master's Degree in High Performance Coaching and Technical Leadership (MHPCTL). Laura was the first-ever National Coaching Certification Program (NCCP) certified Master Coach Developer, facilitating coach and coach developer education across Canada and internationally. Fascinated by the world of wine, she achieved Level 2 with Honors from the Wine & Spirit Education Trust (WSET). Based from her home office in Port Moody, British Columbia, when Laura isn't working or learning she spends her time running, swimming, paddle-boarding and playing with her enormous Bernese Mountain Dog, Murphy.
---
Jesse Korf
Pathway Development Manager – Cycling Canada.
Jesse is currently employed by Cycling Canada as Pathway Development Manager. As such, he oversees performance analytics, coach education and talent identification and development from junior to Olympic athletes. He is a PhD candidate at the department of Kinesiology and Health Sciences at York University, looking at skill acquisition and expertise in sport.
In the past, Jesse has worked as S&C coach and exercise physiologist for an international speed skating trade team based out of the Netherlands and has worked with club and professional cycling and basketball teams throughout Europe
---
John Atkinson
Canada:
John is the National High-Performance Director and National Coach for Swimming Canada having commenced in the role at the beginning of March 2013. He was tasked with delivering international success at the Olympic Games and overseeing the whole Technical program that includes the Olympic pool and open water swimming, the High Performance centres, Paralympic Swimming and the Development team program's.
At the 2019 FINA World Swimming Championships Swimming Canada had their most successful World Championships ever, winning 9 medals (2 of them Gold, this was also the best Gold return at a World Championships), previous best was 6 medals in1978.
In Rio at the 2016 Olympic Games the Canadian Swimming team won 6 medals (1 Gold, 1 Silver and 4 Bronze medals) the best performance by the Canadian Swimming team since the 1984 and 1976 Games. The team at the 2016 Games was recognised by many as the most improved Swimming nation since the 2012 Olympic Games. Following Rio the Female team was voted the Canadian Press Team of the Year for 2016, This is a very prestigious award and all teams both Olympic sport and professional sports teams are considered for this. https://en.wikipedia.org/wiki/Canadian_Press_Team_of_the_Year_Award
Prior to Canada:
John worked for British Swimming from 2000 to 2013 in 3 key leadership roles within the organisation; National Youth Coach Olympic Swimming, Director of World Class Programmes Olympic Swimming and National Performance Director for Paralympic Swimming.
John also worked in Australia from 1994 to 2000. During that time he was involved in the Australian Swimming Youth programme and was involved in numerous national programs. He was an Australian team coach to the 1997 Oceania championships, National event camps, National Youth camps and National Tip Top camps. In 1998 John was the head coach for the Australian National Tip Top camp for Australian Swimming.
Published author:
In 2003 John along with Bill Sweetenham were co authors of the book publication 'Championship Swim Training' published by Human Kinetics, which is available through www.HumanKinetics.com and has sold in excess of 20000 copies worldwide.
---
Michael Findlay
Director of Football Development Canadian Premier League / Former Canadian Men's / Youth National Assistant Coach and Head Coach.
Michael is a certified Canada Soccer "A" License and UEFA "A" / Pro licensed coach who was a member of Canada Soccer's Long Term Player Development steering group. He has over 20 years of coaching experience in Canada and throughout the world and for the last 10 years at the international level including the position of Head Coach of the Canadian National Men's and National Youth Teams. This journey has seen him appear in the technical area in over 150 Concacaf regional matches at the FIFA World Cup Qualifying, 2 Gold Cups, Olympic and Youth World Cup Qualifying levels. As the former Director of Football Development for BC Soccer he was instrumental in the establishment and implementation of the now accepted national game structure for grassroots football in Canada and spearheaded the creation of the 1st standards based high performance youth league in British Columbia known as the BC Soccer High Performance League.
As an avid supporter of coach development within Canada Michael continues to be an advocate for continuing education, mandatory and age specific coach education throughout the game of football in Canada. A respected speaker and a member of the 2020 FIFA technical advisory group Michael continues to provide input at all levels of football development and within the culture of high performance sports development. He currently holds the position of Director of Football Development of the newly established professional soccer league in Canada known as the Canadian Premier League which completed its inaugural season in 2019.
https://www.michaelfindlayfootball.com/
---
Marg McGregor
Canadian Olympic Committee
Marg is Director, National Sport Federations with the Canadian Olympic Committee. She was chef de Mission for Team Canada at the 2006 Paralympic Games and 2002 Commonwealth Games. Marg has coached athletes at the CIS and Canada Games levels. Marg is a recipient of Canada's Top 40 Under 40 Award. She has served as CEO of Canadian Interuniversity Sport, and Executive Director of CAAWS. She is currently a member of the Board of Directors of the Sport Dispute Resolution Centre of Canada and the True Sport Foundation. Marg has attended 5 Olympic Games, 2 Commonwealth Games and 1 Paralympic Games in various capacities. Marg has her Masters in Management from McGill University where she focussed her studies on leadership and crisis management.
---
Roger Archambault
Assistant Director, High Performance Athletics, Sports Services University of Ottawa
Roger is a certified level 5 NCCP biathlon coach (Level 3 Cross Country) and has been a Chartered member of Coaches of Canada since 1999. He has coached at the international level for 18 years including the position of Head Coach of the Canadian National Biathlon Team. He has coached or supported national teams at more than 100 world Cups, 15 World Championships, 6 Olympic Games, 2 Pan-American Games and 1 Winter Youth Olympics. He is a very active NCCP Master Course Conductor and Master Coach having delivered more than 100 technical courses and sport specific tasks within levels 4 and 5. His is an NCCP Master Learning Facilitator and is the author and project leader for the Biathlon Canada Long Term Athlete Development model (2005) as well as the NCCP Community coaching education program. Roger was previously employed as the Manager Team Services with the Canadian Olympic Committee where he assisted in the final phase Olympic Preparation planning of National Teams preparing for Olympic Games. In his current role, Roger is responsible for all High Performance Varsity programs at the University of Ottawa
---
Chris Densmore
CEO – Volleyball BC
1998-99 – OUC Men's Assistant Coach
1999-2000 – OUC Women's Assistant Coach
1998-2005 – Team BC Indoor and Beach Coach
2001-2010 – Mariners Men's Volleyball Head Coach
2005-2010 – Team Canada Beach (Team Coach)
2010-11 – UBC Men's & Women's Assistant Coach
2011-16 – Volleyball BC CEO
---
Todd Allison
High Performance Advisor – Own the Podium
Freestyle Skiing – Canadian national team athlete(1989 – 1994), Development team ballet/aerial coach, high performance director and 2002 Olympic team leader Level V NCCP; NCI Calgary Graduate (Chartered Professional Coach) Athlete Service Manager – Pacific Sport Canadian Sport Centre Greater Vancouver (now CSI – Vancouver) Founding Manager – Telus Whistler Sport Centre (now CSI – Whistler) Associate Director – United States Olympic Committee High Performance Advisor – Own the Podium.
---
Frank van den Berg
Director Mental Performance – Canadian Sport Institute Calgary
Frank van den Berg graduated in 1995 from the University in Groningen, The Netherlands, with Master's degrees in developmental psychology and sport psychology. He has worked as a sport psychologist and mental performance consultant with numerous national and developmental team athletes, teams and coaches in The Netherlands and – since 2005 – in Canada: speed skating, figure skating, triathlon, volleyball, soccer, field hockey, gymnastics, basketball, baseball, diving, tennis, synchronized swimming, target shooting, hockey, bobsleigh, skeleton, alpine skiing, and Special Olympics. Frank provides various services to optimize preparedness and readiness of athletes, teams and their coaches to meet their performance demands in training and competition. These include comprehensive mental training & coaching, psychometric assessment, biofeedback training, eye movement desensitization & reprocessing (EMDR), teambuilding, coach support & education, leadership development, and psychological first aid/crisis intervention in sport. As Director Mental Performance at the Canadian Sport Institute Calgary Frank collaborates with other mental performance consultants and sport psychologists in Calgary, Alberta and across Canada.
---
Shelley Coolidge
World University (FISU) Games Gold Medalist 2009 – Team Canada Women's Hockey, Assistant Coach International Ice Hockey Federation (IIHF) – Women's Hockey Yearly Training Program Contract Manager National Ringette League – Gloucester Devils – National Silver Medalists – 2016 IIHF Development Program Coach Mentor CIS Head Coach and Program Manager 2003 – 2014 ACAC Head Coach and Program Developer 1998 – 2003 Team Canada U22 Program Team Manager 2002.
---
Gerard Lauziere
Karate Canada and Coaching Association of Canada
Karate Canada, National Team athlete and coach. HP committee and NCCP committee. Taekwondo Canada, High Performance Director Canadian Fencing Federation, High Performance Director Coaching Association of Canada, senior coaching consultant High Performance
---
Earl Church
Coach – Athletics – University of Moncton and Athletics South East (New Brunswick)
Coach of Athletics for 50 years. Coached at High School, University and Club levels in Ontario, New Brunswick and Massachusetts. From 1994 until 2008 coached for Athletics Canada in Para Program. From 1996 – 2002 was Head coach of National Para Team. Currently serving as an executive member of the Board of Directors of Coaching Association of Ontario. Member of Coaches of Canada – ChPC.
---
Jon Metz
Dr. Jon Metz holds a Master of Science in Education and Doctor of Education in Educational Leadership. Additionally, Dr. Metz is certified as a USA Triathlon Level II (ITU) Coach, USA Triathlon Youth & Junior Coach, IRONMAN Coach, USA Cycling Coach, and TrainingPeaks Coach. His international and domestic coaching experience includes camps, clinics, groups, teams, and individuals in both draft-legal and non-draft legal environments. Beyond working with athletes, he instructs and mentors coaches, from all sports, in the area of effective coaching. His experience in the field of education and athletics is the perfect combination to ensure coaches understand and apply teaching skills to better connect with their athletes. Dr. Metz is the founding President of the College Triathlon Coaches Association (CTCA). The CTCA was established to provide educational, professional, technical, and competitive support to the membership. Furthermore, the CTCA seeks to develop the sport among all NCAA institutions. Dr. Metz was instrumental in creating one of the first NCAA Varsity Triathlon Programs in the United States at Daemen College in Amherst, NY where he remains today as the program's original head coach. He also serves as a member of the USA Triathlon National Coaching Commission (NCC) whose mission is to promote professionalism in multisport coaching and advise USA Triathlon regarding coach education.
---
Requirements
Bachelor's Degree
Candidates will normally have a Bachelor's degree in Human Kinetics, Physical Education, Kinesiology or other related field of study with one of the following:
A minimum overall average in the B+ range (76% at UBC) in third- and fourth-year level courses.
Academic standing with at least 12 credits of third- or fourth-year level courses in the A grade range (80% or higher at UBC) in their field of study.
Alternatively, applicants may be considered for admission who do not meet the academic requirements stated above, but who have had significant formal training and relevant professional experience, and/or otherwise possess demonstrable knowledge or expertise that would prepare them adequately for successful study in the graduate certificate program. Assessment standards will be concordant with those employed by the Faculty of Graduate and Postdoctoral Studies.
Prior Experience
In addition, candidates will normally have:
5 years of coaching experience, including coaching athletes at the national team or Canada Games level, or 5 years as a carded National Team athlete
National Coaching Certification Program qualification at level 3 or "Competition Development"
recommendation of the National or Provincial Sports Organization
Special admission into graduate studies will be considered for candidates who have demonstrated extraordinary leadership potential and impact in their coaching careers, but may lack formal academic (undergraduate) training or credential. These candidates will need to demonstrate the drive to excel and the intellectual capability required to succeed, where ability to progress in the program will be assessed within the graduate certificate.
How to Apply
Application Deadline: April 5 (Application System will open on February 15). You are encouraged to apply by mid March to allow time for your reference letters to be submitted.
Applications will be considered as they arrive, and it is strongly recommended that you apply early as spaces are limited.
Late applications (after April 5 deadline) may be considered if space permits.
Contact Graduate Programs Assistant or 604.822.4641, if you require any assistance with the application process.
Tuition
Tuition is payable on a course-by-course basis for the HPCTL Graduate Certificate at the 2020-2021 rate for a 3 credit course: $1700 for domestic students and $2,792 for international students. Tuition is paid in four installments – June, September, January, May. The tuition for each course may be subject to annual tuition increases as established by the University (currently at 2%).
In order to maintain registration in the program students must register and pay tuition for a minimum 2 courses.
2020/21 Program Total for HPCTL Graduate Certificate
$6800  for domestic students ($1700 per course x 4 courses)
$11,171 for international students ($2,792.79 per course x 4 courses)
Tuition fees for HPCTL are payable on a term basis, 4 installments throughout the year (June, September, January, May).
2020/21 Program Total for MHPCTL
$15,870 for domestic students ($2,645 per term x 6 terms)
$28,302 for international students ($4,717 per term x 6 terms)
Tuition fees for the MHPCTL are payable on a term basis, 3 installments throughout the year (September, January, May).
Additional Fees
There will be additional fees for the 6-day residential institute held. Participants are responsible for costs associated with travel and accommodation at UBC Vancouver.
Preferred rates for on-campus accommodation for participants of this program will be provided closer to the start of the program.
Student Fees
Students in the MHPCTL program are required to pay various student fees. Some student fees have no opt-out provisions while other fees have opt-out provisions. Students in the HPCTL certificate do not pay any student fees and may have less access to resources as a result.
---