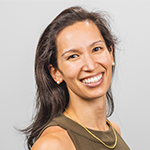 Assistant Professor of Teaching
Education
---
The University of British Columbia – Okanagan, 2018, PhD (Health and Exercise Sciences)
Queen's University, 2014, MSc (Kinesiology)
Queen's University, 2012, BSc (Kinesiology)
Courses Taught
---
KIN 320 Exercise Testing and Prescription
KIN 341 Instructional Strategies for Including Persons with Disabilities in Physical Activity
KIN 500H Special Topics in Kinesiology (Inter-Disciplinary Assessment Methods for Tailored Exercise Prescription)
Research Areas
Research Interests
Research and Teaching
---
Dr. Jasmin Ma's work aims to combine practice, research, and end-user engagement to support people with diverse physical abilities to be physically active. She teaches and provides training in the areas of exercise testing, prescription, and physical activity program design and delivery. Her educational leadership activities involve the development and knowledge translation of inclusive physical activity counselling and prescription approaches and the implementation of end-user engaged experiential learning opportunities in community-based exercise settings. Jasmin's research focuses on supporting strength training behaviour change and developing methods for tailored physical activity interventions among people with chronic disease and disability.
Potential Students
---
Undergraduate students interested in pursuing a KIN 492 are encouraged to contact Dr. Ma at the email address above.
Consulting and Professional Practice
---
Consulting inquiries should be directed to Dr. Ma at the email address above.