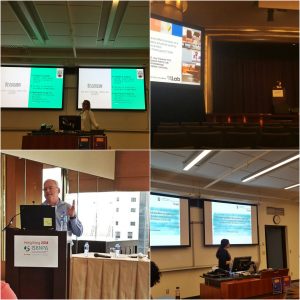 Posted: June 14, 2018
Jun. 14, 2018 – It has been a whirlwind of a month at the Pop-PA Lab ! Congrats to Dr. Guy Faulkner and Dr. Erica Lau for their presentations at the International Society of Behavioral Nutrition and Physical Activity  (ISBNPA) conference in Hong Kong. And congrats to PhD students Krista Glowacki and Negin Riazi for […]
Posted: April 26, 2018
Apr. 26, 2018 – Congratulations to Dr. Guy Faulkner who was awarded the Rossy Family Foundation grant for the development of the Canadian Campus Wellbeing Surveillance System. Read about other recent grant awards of KIN Faculty here.
Posted: April 24, 2018
Apr. 24, 2018 – New paper out by Dr. Leila Pfaeffli Dale and Dr. Guy Faulkner titled Smartphone app uses loyalty point incentives and push notifications to encourage influenza vaccine uptake.
Posted: April 23, 2018
Apr. 23, 2018 – Read the new papers by Dr. Guy Faulkner and Dr. Lira Yun in the special issue of Health Promotion and Chronic Disease Prevention in Canada (The 'New' ParticipACTION ). Read about Exploring the impact of the 'new' ParticipACTION: overview and introduction of the special issue and ParticipACTION after 5 years of relaunch: a quantitative survey […]
Posted: April 12, 2018
Apr. 12, 2018 – Walk or Run to Quit has been featured on CTV morning news and includes an interview with our very own Dr. Carly Priebe! To learn about the program and hear from past participants and coaches, watch the CTV feature here .
Posted: March 29, 2018
Mar. 29, 2018 – Want to learn what Walk or Run to Quit is all about? Find out about the program and what to expect by watching this short video!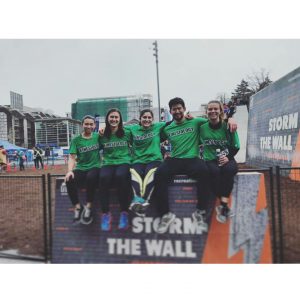 Posted: March 27, 2018
Mar. 27, 2018 – Great team effort during UBC Rec's Storm the Wall – first in our heat! #stormthewall2018 #justforfun
Posted: February 6, 2018
Feb. 6, 2018 – New paper out on the 'Effectiveness of active school transport interventions: a systematic review and update'. Read it here.
Posted: February 2, 2018
Feb. 2, 2018 – The new, integrated 24-Hour Movement Guidelines for the Early Years (0-4 years) combine the movement behaviours of sleep, physical activity, and sedentary behaviour. In order to help with dissemination efforts, Dr. Guy Faulkner, Dr. Erica Lau and PhD student Negin Riazi have developed a short animated video about the guidelines. To […]
Posted: January 30, 2018
Jan. 30, 2018 – In collaboration with UBC Studios, Negin Riazi, Dr. Erica Lau, and Dr. Guy Faulkner have developed an animated video about the new, integrated 24-Hour Movement Guidelines for the Early Years (0-4 years). These guidelines address the interplay of movement behaviours through the whole day. Check out the full video on Facebook, […]